Spend One Week in a Spectacular Setting With 27 Other Amazing Women and Become the Writer You'd Always Wished You Could Be
"I've never had such a wonderful experience with so many beautiful loving and supportive women. I learned so much from Jennifer and Suzanne. I know I will go home with a positive and joyful attitude. And I can't wait to start writing!" –Jeanne Laundy, 2006 Participant

"I feel like I fell in love with myself, the woman I discovered at the Writer's Spa! I always knew she was in there but it was wonderful having the help to get her to come out and shine. Your Spa went way beyond my expectations, and let me tell you… I had really high expectations!" –Karen Booy, 2004 & 2005 Participant
This week-long workshop is designed for serious or professional writers, artists, performers and other creative thinkers who want to rekindle the spark and their commitment to their creative work. (We call it the Writer's Spa, but year after year it seems to attract all sorts of artistic souls.)
It's also for any busy, working creators who wish time to rest, juice their creativity, and get a new perspective on their process.
The Writer's Spa is even for those with a creative vision of any kind that needs some clarity or a shot of mojo.
More than just a writer's retreat or workshop, this is a spa, a place to relax, and unwind with your creative work.
We help you renew and nurture your creative soul — and that helps you claim your full emotional power as a writer or artist of any kind.
"The experience just gets better and better for me every year! My second time around I was able to take my writing and my attitude to the next level and only because of Suzanne and Jennifer.
Their concerns with my comfort, happiness, satisfaction and everything truly makes the spa a retreat." –Dana Boyd, 2006 Participant.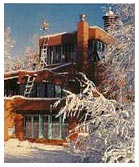 Spend the week with Jennifer Louden, coach and author of six books, including the bestseller The Woman's Comfort Book, and Suzanne Falter-Barns, creative marketing consultant and author of the creativity classics, How Much Joy Can You Stand? and Living Your Joy. Together, they'll provide supportive coaching, in a structured, non-competitive, beautiful retreat environment.
"The Writer's Spa offers a truly integral approach to writing, encompassing spirituality, creativity, critical thinking, reflection, and multiple learning styles. Respecting a diversity of interests and experiences, Jennifer and Suzanne did an extraordinary job of providing instruction and information resources to equip every individual for a transformational writing experience." –Dahna Willis, 2005 Participant
Suzanne and Jennifer will teach you:
How to be more productive.
How to push past the little voices that keep your writing small.
How to nurture yourself into deeper work.
How to connect with your divine purpose as a writer.
How to stick to a writing schedule.
How to use your body and mood to love writing more.
How to suitably impress agents and editors…and explore getting a book deal if you want one
At The Writer's Spa, you'll find:
Space, time, and peace to get your writing done.
On-the-spot coaching on your writing/creating when you hit snags and trouble spots as you work.
Important resources and techniques that help you keep on nurturing your writing.
Useful information about getting published.
A critical on-going support network.
A pack of creative, fun, joyful women who, like you, are up for a soul-fulfilling adventure.
A colorful, stimulating environment in which someone ELSE is doing the cooking and cleaning, and you get to just lay back, enjoy…and create!
The Writer's Spa opened new thought passages for me. Delightful women from many locales and walks of life were given awesome opportunities to explore new ways to approach their writing – Suzanne and Jennifer are super!" –Helen Waters, 2005 participant
"When I arrived at the Writer's Spa … I felt pretty depleted creatively and physically. Then throught he fabulous seminars that Jennifer and Suzanne enthusiastically presented, I began to find my bearings again.
The magic of the amazing food, the mountains in the distance, the weather and more healed my empty parts. I felt like I was in a different dimension here, far, far away from ordinary life. Thank you, Jennifer and Suzanne!" –Christina Frei, 2006 Participant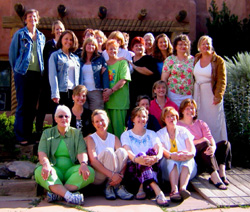 "The Writer's Spa is a delicious and delightful experience. Suzanne and Jennifer create a safe and comfortable space for women to explore and be excited about their writing. They are brilliant facilitators, beautiful women and genuine to the core. Give your writing an amazing gift by attending this retreat." –Lisa Evans, 2006 Participant
Each day includes writing time, yoga, and a variety of mini-seminars to choose from including:
"Creating the Time, the Mood, and the Energy to Write"
"Discovering Your Divine Purpose as a Writer"
"How to Get Publishers & Other Creative Pundits to Take You Seriously"
"Befriending the Critic"
"Living the Artist's Life"
Participants will also receive:
On the Spot coaching as needed with Suzanne or Jennifer as they work
A take-home folder full of useful tools for writing, plus class notes from each of the optional mini-seminars.
At least one field trip to a local artist's studio to hear about their creative process and see their work
Time to explore the vibrant, creative environment of Taos
A critical support network to help continue their work.
Fun, nurturing surprises to add just a little more soul candy to your retreat (Last year chair massages upon arrival were a BIG hit!)
The Writer's Spa is STRICTLY limited to 28 PARTICIPANTS.